January 28 - February 4, 2008: Death Valley, California
One of many trip reports by Alan Silverstein.
Last update: December 9, 2008
Contents:
---
Trip Planning
Death Valley is a fabulous place I first encountered in 1974. I've returned there many times over the years, usually every two to three years, for a week or less at a time. (See also my webpage on Neat Hikes in Death Valley.)
My software engineering contract with Avago Technologies in Fort Collins was due to end around January 23, 2008. During the previous fall, I read in the Death Valley Natural History Association (DVNHA) newsletter that the 8th Death Valley Natural History Conference would take place January 31 - February 3. "Excellent," I thought, "a fine excuse for a post-contract vacation!" Plus, I hadn't been back to DVNP since 2005.
I signed up for the conference and made my travel plans... Then Avago offered me an unexpected 6-month contract extension. Well actually the extension came through just before I locked in the air travel, but there was no question I was going anyway!
As usual since Allegiant Airlines has offered service between Fort Collins - Loveland airport (FNL) and Las Vegas, I arranged to fly from FNL to LAS and back, and rent a car out there, since it's only 2-3 hours from Vegas to the Valley. Also as usual since I like to travel cheap, I packed camping gear. But as a concession to my advancing age and need for comfort, I pre-bought motel rooms in Vegas for the first and last nights of the trip, leaving five nights in between to camp in the desert.
During the days before the trip I found myself working hard and fast on some code development... What else is new? Also I dragged my wife Cathie on a long hiking loop around the foothills west of Fort Collins to get myself in better shape.
---
Monday, January 28 -- Getting There is Half the Fun
Another way to save money and hassles, or so I thought, was to catch a ride with my wife to the HP/Avago site for half a day, and then down to the airport (10 minutes south). We'd work in the morning, I'd buy her lunch, she'd drop me at FNL, and head back to work. What could go wrong?
Well it took three tries to fly me out of FNL! First, I was working furiously trying to wrap up some coding someone wanted ASAP, so we didn't leave until it was time to go straight to the airport. Upon arrival, we discovered that the flight would be (they said) three hours late, due to bad weather the previous day. The wind was howling along the Front Range, but apparently that had nothing to do with it... "Come back at 4:30."
I checked my baggage, got my boarding pass, and left the airport! We ended up having fast food lunch out after all -- on the way back to work. Also I discovered that while Allegiant charges $5 per checked bag in each direction, that's only if you tell them ahead of time. At the airport, the extra bag full of camping gear set me back $20. Oh well, cheaper than a motel, right?
After several more hours of intense labor, the Allegiant website said the flight was still on time -- for the delayed schedule -- and I couldn't get through by phone. We drove toward the airport... And halfway there, my call was answered, the flight was a couple of hours delayed again, so we turned around and went back to work!
At about 5:30 pm we rushed down to the airport for the third time -- because now the plane was arriving sooner than expected. I'd managed to snag a window seat on the left for a look at Lake Powell, but of course by the time we took off, it was dark!
After an uneventful flight, I finally walked off the plane at about 8 pm Nevada time, about 4:10 later then originally hoped. I was glad I had a motel reserved and wasn't camping that night! Getting my baggage and a car, shopping for food for the week, and locating the motel, took 2:27 more. I collapsed on the bed in my room at Arizona Charlie's at 10:30 pm, quite worn out.
---
Tuesday, January 29 -- Loop Tour and Shoreline Butte
This time of year the days were only a little more than 10 hours long between sunrise and sunset. Somewhere between really tired and eager to get going, I got up and was on my way southeast from the motel at 7 am. That meant driving right into the rising sun on the Boulder Highway!
Next stop: Searchlight, Nevada. I spent about an hour on a cool, pretty morning searching for chalcedony, alleged to exist a few miles north of town, but with very poor directions, so I didn't expect much. I found just a little, but it was enjoyable walking in the desert. I also became aware of how cold it was going to be for the rest of the week. There was ice on a puddle, and it was less than 40 degrees out. (I lived in polypros day and night most of the week.)
After picking up a few more munchies in Searchlight, I headed west to Baker, California at 9:15 with a couple of rockhounding stops along the highway. It was interesting descending the long hill through Nipton and crossing the dry Ivanpah lakebed to pick up I15 west.
In Baker I took a quick lunch break during which I read a little from Sharp's excellent book, "Geology Underfoot in Death Valley and Owens Valley", about the route ahead going north on 178 toward Shoshone. Thanks to this refresher, I stopped along the highway north of town to walk a few hundred feet west to the floor of the Silver Lake playa. This is one of many dry lakes along the Mojave River, which flowed in prehistoric times all the way to Death Valley, but now only rarely reaches Silver Lake.
Throughout the day I balanced the enjoyment of where I was, against the pull of what lay further down the road -- if I could get there before sunset. I had four goals in mind. Nonetheless I stopped 62 miles from Telescope Peak (said the GPS), a prominent mountain west of Death Valley, to admire it, plus the nearby Dumont Dunes. With 4WD, one could go all the way directly into the Valley, but 2WD vehicles like my rented PT Cruiser must follow the paved road around to Shoshone.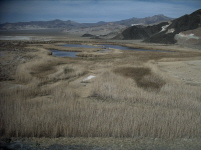 Despite many visits to DVNP over more than 30 years, I'd never made it to Saratoga Spring, "the largest pool in the valley." At 12:35 I turned the rental car west off 178 onto a good gravel road. I made a fast one-hour round trip, 9.7 miles each way. The road was decent until I turned north at a junction, and later west at another junction. The last part was slower and rockier. I parked at the end of the road and walked a short distance up a nearby hill to look over the spring, several large pools, and an expansive panorama of the south end of Death Valley. It was peaceful and pretty.
While I was sitting on the rocky top, a ranger pulled up in a truck, got out, made a several-minute walking inspection tour around my hillock, and left; all without ever so much as waving in my direction.
Back on 178 northbound, at 2 pm I turned off again to go half a mile west up a rocky wash. A Rock & Gem article I'd saved talked about collecting opal in the deep, dissected lakebed sediments of prehistoric Lake Tecopa. Sure enough the directions were good, I found the spot and a little opal. Nominally opal doesn't interest me because I can't throw it into a rock tumbler... But I got into the treasure hunting anyway. I didn't find anything very big or precious, mostly potch (white) with just traces of fire. I scrambled around high on a steep, loose hillside of crumbly gray volcanic ash, pitted here and there where others had dug for the opal, whacking and digging with a rock hammer I'd brought from home.
At 3:05 pm, with about two hours until sunset, I made a reluctant departure back to the highway and turned left. Passing through Shoshone, I paused briefly to run into some ash beds described in Sharp's book, including a 6' thick layer from the most recent Yellowstone eruption 620K years ago. I needed to take home a cup of that stuff! And I did.
A mere 15 minutes after leaving the opal site, I proceeded out north of Shoshone non-stop to DVNP. I was "pushing daylight" to get to the Ashford Mill site (-121' elevation; built 1915; abandoned, also 1915) at 3:55 pm, prepare to hike, and try to summit Shoreline Butte, 663', by sunset.
Shoreline Butte was an island 10,000 years ago, when the Mojave River fed into Death Valley and Lake Manly was five to six hundred feet deep. Despite being made of hard basaltic rocks, the enormous pummeling the Butte took from waves, traveling as much as 100 miles south, cut terraces into the hill that are still visible today. As explained in Sharp's book, the lake's elevation changed a lot over time with the climate, so the terraces are varied in size and clarity.
I rapidly assembled my pack, put on my boots, and headed downhill a little toward the Butte at 4:14 pm. I was back 2:02 later in pitch darkness after a very fast, intense workout.
I could have gone directly west up a broad wash to the top, but instead I chose to cross the valley floor to the north end of the hill. I wanted to climb up through the most prominent terraces visible from the road to the north. Naturally it was a lot further than it looked. It took me 22 minutes of fast walking, probably over a mile, to get to a good point where I could turn left and start up. Along the way there were cliffs to my left, so I couldn't take a shortcut either. On the valley floor there were some pretty reflecting puddles from recent rains.
The GPS said sunset was at 5:08 pm. The book said there were perhaps a dozen terraces in all, but some were very hard to see. I counted five for sure. Each was just a flatter area 5-10' wide before starting up the next steeper section of hillside covered with fairly big, stable, copper-brown, deeply varnished river cobbles. It would be easy to walk up the hill and not even notice the fossil shorelines. Some could be traced each way around the hill while standing on them; others were less distinct.
As I ascended, it became clear I wouldn't reach the top by sunset... I was glad I hadn't slept in that morning. Of greater concern was ensuring I could get down to the south into the broad wash to finish the counterclockwise loop. I knew I'd have enough daylight to look over and check it out.
Somewhat above the highest terrace at ~285', the hill rounded over and I had to continue up a gully. Then I turned right up a hillside to what I thought was the summit at 5:14 pm, just 1:00 from the car. A cold wind was howling, but it felt good since I was sweating. I continued down south into the lee to sit for a little bit, and to confirm that while it was steep, there should be no problem descending into the wash for the return to the car... Yay.
My GPS read 590' elevation, which was surprising since I expected around 663'. Also I noticed some unexpected higher terrain to the west, but it looked far off. In the growing twilight I couldn't be sure, and I let it go. Back home studying a map, I realized that it was the true summit, not too far away, and I missed it... Oh well.
After just 15 minutes it was time to start down. I wanted to take a side-trip up a little hill to the southeast, but thought the better of it. I got myself down the hillside to the wash while I could still see well. That was a wise move.
The rest of my return trip was long but simple. I walked down the wash, easy, until it opened out onto an alluvial fan. I resisted turning on my LED headlamp until necessary, but eventually it was clumsy going without it. I also used my GPS periodically to see how far away -- initially about a mile -- and in what direction was the Ashford Mill and my car. It was too dark to get even a hint of it peering through the gloom across the valley floor.
Without the high-tech toys, the hike out would have been much slower and less efficient. I'd have had to stumble to the paved road and then decide whether to turn left or right. With the GPS I could and did proceed in nearly a straight line back, even when the indication was that I should cross the grain of the alluvial fan, up and down across the small fingers.
After a while I was wondering if the waypoint could be correct, it sure seemed awful far. But lo and behold, up a short hill there were the mill ruins, and then my rental car. I'd made it down in just 0:47. I hoped I hadn't ruined myself for a longer hike the next day, but figured I'd just have to wait and see.
I got back on the Badwater Road and drove north in the eerie pitch darkness non-stop to the Furnace Creek visitor center at 7:15 pm. In one hour of following the winding road along the western front of the mountains, what Sharp calls a "horizontal roller coaster" around the alluvial fans, I didn't come upon one single other vehicle. That was weird!
Of course the visitor center had closed at 5 pm, but there happened to be a couple of rangers outside. I got to chat with them for a bit. No evening program there to stick around for, so I washed up and changed clothes (bathroom with running water open 24 hours a day), went back a mile to Texas Springs campground at 8:40, and paid $14 for a campsite.
The next five nights I slept out with no tent, on and partly under a tarp. The evenings were cool and the mornings ranged from cooler to cold, some days below 40. I found that simply bringing the tarp over the bottom half of the sleeping bag kept me warm enough to not really mind it.
Every morning -- five days in a row -- I enjoyed watching the dance of the bright planets, Venus and Jupiter, as they passed through a close conjunction in the early dawn. The waning moon preceded them into the sky, growing later, closer, dimmer, each morning.
---
Wednesday, January 30 -- Corkscrew Peak
A longer night's sleep would have been nice, but once again I had a reason to get up and going early. Corkscrew Peak, 5804', a prominent summit east of Stovepipe Wells, beckoned, and this was the day for it. I'd seen and wanted to climb the peak for years, had researched it a lot before the trip, and it was my main hiking goal for the week.
I was both excited and nervous, the latter because I'd heard it was a difficult climb. Not horribly far, 4.5 miles, or a lot of vertical, 3100' of gain, but all off trail and with some challenges. "Park by the sign. Don't head straight for the summit," I was told, "go up to the east of the peak and approach it that way." I'd spoken with a park ranger a week before who'd confirmed this. "There might be a little snow up there too, but if you're from Colorado it shouldn't bother you."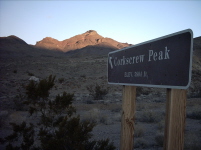 I slipped out of the campground as quietly as I could at about 6 am, well before sunrise, and drove about half an hour north, then northeast on the Beatty Cutoff Road, to Hells Gate (the road junction), and another mile or so up the hill to the Corkscrew Peak sign at about 2700', 15 minutes before the 6:52 am sunrise. I got my pack and boots together as lovely pink first light touched the higher peaks far to the southwest and west, then turned Corkscrew's summit gold. The mountain loomed above nearby, begging to be visited. I thought, "It's only 3100', if I move fast I might be on top in three hours."
At 7:00 am I took off westerly on foot looking for a huge north/south wash I'd seen in aerial images and on the map. It didn't take me long to decide that turning left down the hill was a lot easier than crossing ravines. ("I should have just parked farther down.") After a bit I found a gully that looked right, but wasn't, and followed it back uphill, etc. After a total of 45 minutes of this terrain-crossing insanity, I finally found and dropped into the wide, scrubby main wash about a mile from the car. Walking up the relatively flat hillside from there was now much easier.
I saw a huge boulder ahead. Of course it was farther away than it looked. I took my first break there; it had been an hour. The main wash veered east while a smaller gully went north, still well east of the summit. "Hmm... That has to be the right route, they couldn't have meant to go east from here."
I continued up the narrowing gully. Like most of the Death Valley area, it was cut into hard, serrated limestone of varying colors. Pretty soon it was a narrow, cliff-walled gorge. "Hmm... No one mentioned a slot canyon." But I saw some old footprints and an occasional cairn. And after a while, some small pools of water, a welcome sign in case I needed them on the way back.
I also started running into small to medium dryfalls, that is, dry vertical rock faces occasionally turned into waterfalls during flash floods. I had to carefully climb up many of them to keep going. Some were 10-15' high, thus a little risky. "Hmm... No one mentioned dryfalls..."
Throughout the day I wore my GPS case on my belt, along with my camera. When the canyon widened enough to see some satellites, I got a fix on my position. Progress was slow, I wasn't even east of the peak yet. Two hours after leaving the car, I started feeling very discouraged. I wasn't gaining altitude very fast, "no one mentioned bushwhacking either," and more and more it appeared I'd have to return the way I came up, dryfalls and all, no matter how far I got. I hadn't climbed anything that I couldn't descend with caution, but it wouldn't be fun.
By 9:45 am I was finally north of east of the peak (said the GPS -- I couldn't see it), in an area opening up more at about 4060' elevation, still 1700'+ down from the top. "Hmm... Ain't gonna summit by 10 am, probably not even by 11 am, is this a problem?"
I found a place where I could reasonably hang a left (west) and climb a steep, gravelly hillside out of the canyon and turn toward the peak. It bothered me that there were no cairns or footprints visible, but I had to work with what was offered to me. And it did work out OK. Within 20 minutes or so I was up high enough to see the mountaintop again, and my route to it, another 1500' or so of steep ridgetop walk-up.
After continuing a while, I noticed two things:
I was heading for a north sub-peak of the main summit. If I followed the ridge I was on, I'd have to go over the top of it.
I was slowing down. (Or at least it felt that way, gasp, gasp.)
I decided to traverse left off one ridge, cross a gully, and continue up the next ridge south. This was tedious, but I got well up the hill, found a spot behind a boulder mostly sheltered from the cold wind, and took a rest break. I knew I was going to make the top, but it was still hundreds of feet above me, a real grind, and I didn't know how long I would be able to spend there. I'd started up around sunrise, and the middle of the solar day would be about at noon... I could get back to the car by headlamp and GPS if necessary, although that wasn't desirable. OK -- however long before noon I'm on top, double that, and that's how long I can stay on top. Doesn't leave much margin, but hope for the best...
Switching ridges turned out to be a mistake. Some tiresome side-hilling around the sub-peak deposited me closer to its top than to the saddle below it to the left. Oh well, onwards (starting with downhill) to the summit. Lots of cliffs up there, but I think I see a way through... Crunch uphill through some old snow an inch or two deep in spots... Yes, the last 30' or so required some scrambling and careful placement of my feet, but at 11:25 am, I was finally on top!
This meant I could reasonably spend one hour. Moreover, it meant I'd gained the last 1800' or so in 1:40, which was quite respectable... It just felt a lot worse.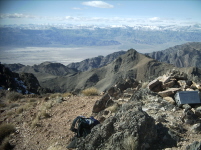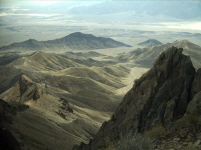 I signed my name on the register I found inside a silver ammo can, then plopped flat on the lee side for lunch and a long rest with my boots off. I had glorious view south down the length of Death Valley. I rested there quite comfortably for nearly an hour, taking pictures and studying the landscape with binoculars.
I didn't read through the register, but noted that the last people to visit had come up, just four days earlier, from "Little Corkscrew" to the south... Hmm... And I really hated to downclimb the dryfalls the way I'd ascended. My gears turned on that one for hours.
While on top I took for granted that I could see both Badwater and the -282' low point west of it, the lowest point in the western hemisphere, plus Mount Whitney, 14452', the highest point in the 48 states. Furthermore, they were not on opposite sides of me, as they would be from Telescope Peak or points north of there in the Panamint Range.

Later at the DVNH conference (remember that?), I met someone excited about the possibility of taking one picture that would show both points. Back at home I joined four of my snapshots into a poor panorama. I determined by other means that the two points were 92 degrees apart from Corkscrew, quite doable for a real panoramic image.
Using small binoculars, I could also see my car! Very far away and down below. And I found that, locating Furnace Creek, I was gazing right straight down the runway of the lowest airport in the western hemisphere too.
At 12:35 I had my boots back on and reluctantly started down. There was a beaten path on the summit ridgeline heading out of sight south -- to where I knew there were cliffs -- but I sure was tempted to follow it. "Nope, you don't go down what you didn't come up!" Instead I followed my tracks back down the summit scramble and the old snow to the north saddle. The thermometer on my daypack read 32 degrees, and it was windy, but I didn't feel cold, just tired.
I'd already decided to go back over the north sub-peak to the direct ridge route, and that's what I did. No big deal getting to the top. Walking downhill from there was pretty fast and easy, considering I was still worn out. Way down the ridge I came across a massive cairn, which made me wonder who'd put it there, and why. Hikers, or prospectors?
Returning to the floor of the canyon was uneventful. My mind kept chewing on the dryfalls ahead... I bushwhacked my way along the rocky gully floor, amazed that it went on and on so long before encountering the first downclimb.
Actually I never got that far. While sitting down for a brief break, I noticed a steep cut up out of the canyon to the left (east). Why not take a look? So I did. Maybe 40' higher, I saw that really getting out required climbing up a lot more... But it was doable. Why not at least take another look?
Now recall, I was all alone, without radio (no one to talk to anyway) or cellphone (no signal), deviating from my flight plan, and heading into unknown terrain. But I really wanted to avoid those dryfalls!
After 10-15 minutes I was up high above the narrow canyon, but I still couldn't see a complete route down to the main wash. I made a bargain with myself: I could go this way for 30 minutes total, and if I didn't see a good way down, I had to retrace my steps. I had time and water enough to waste an hour.
My detour paralleling the main canyon required crossing a lot of drainages, at least 50' deep, maybe 6-7 total, I lost track. Each time I dropped into one, I hoped that laboriously climbing up the next ridge would reveal the rest of the descent route, but it didn't. There was a risk of encountering an uncrossable slot chasm. However, I noticed a couple of ways down into the gully below, so I figured at least I wouldn't have to go all the way back to where I started.
Eventually the terrain changed direction. I saw that I could walk right down the rest of the ridge between the two forks of the wash. Yahoo! That dropped me into the main wash where I'd been an hour from the car.
Thence followed a long, patient slog down, bearing to the left. When the GPS said I was passing the car and probably far enough, I climbed left over the wall of the main wash, maybe 40' up, and I could see where I'd parked. I just had to drop down again, go up again, go around right, walk a few hundred yards to the road, and then finally limp up the asphalt a tenth of a mile...
Of course at times I was still leaning into, or being blown over by, the cold, dry desert galewinds. I arrived at my starting point at 4:10 pm, 3:35 off the summit, an hour before sunset; happy to be down, done, and safe. The last week or so, including three travel days, had been so intense, I promised myself I'd take it easy starting right then.
Driving back down the hill mentally floating, I missed the left turn on the shortcut road to Furnace Creek. "Oh well, I can take the next left in a few miles... But why bother?" Stovepipe Wells was straight ahead, closer, and a little cheaper for camping, plus I wanted to head in that direction in the morning anyway. All I'd miss was the evening program at the visitor center, no biggie. It was a fortuitous oversight.
I pulled up to the SPW registration office as a wonderful desert sunset got underway. "See that peak right out your window? I just climbed that today. Here's my five bucks, please hose me down." "No problem, but it's only $4!"
I paid for a campsite ($12) for the night across the road, called my wife, and took that four-dollar shower and a swim. I had the pool all to myself, but it was too cold to enjoy for very long! After that I treated myself to a good, leisurely dinner at the SPW restaurant, total $28 with tax and tip... I ate a lot, and felt fine about the quantity and the cost.
It was dark and cold out, but not too late, well before 9 pm. So I read for a while in the saloon before heading back to my campsite. Oops, I'd made a small logistical error, picking a spot too close to the fee station sign that turned out to be illuminated! Careful car positioning and piling a few rocks took care of that. Still, I wish I could remember (two or three times a decade at SPW) that one should situate at the far (north) end of the huge camping area, away from lights, crowds, and highway noise.
---
Thursday, January 31 -- Aguereberry Point, Tetracoccus Ridge
I awoke late and a little sore, and slept in just like I'd promised myself. Despite bright sunshine, it was still chilly; desert heat wasn't problem. After a meditative breakfast at the picnic table, I left at 9:30 am to drive up through Emigrant, hang a left, go to the Aguereberry Point turnoff, left again, and proceed 6+ miles on gravel and a little snow. I always forget how narrow, long, and winding that road is.
Still, I arrived at the Point, 6433', with its incredible panoramic view, at 10:16. Being still tired, I debated why I was going for yet another hike, but there I was, and I had to seize the moment. I'd wanted for many years to cross over to Tetracoccus Ridge, a detached steep-sided chunk of landscape that blocks the direct view of part of the Valley, including Badwater.
It really was a nice day; cool and sunny, not terribly windy, and I had plenty of time. I geared up, started out at 10:45, and was back at 3:00 pm, 4:15 later, still without having ever gotten to the far end of the ridge!
The hike began on the left side of the huge marble outcrop at the parking lot. Oops, I looked for the trail on the right side, and had to backtrack a little. Visiting a place maybe five times doesn't mean you remember the details when it's over a 24 year span. Anyway the trail went east across a lot of thin, footprinted old snow, and then started seriously down the steep, narrow ridgeline toward the first saddle about 600' below. That's right -- you start this hike downhill, and end it going back uphill.
Getting down to the bottom wasn't too bad, but of course it took me half an hour with being tired and careful. Then I worked my way up the steep, loose, nasty hillside above, that I'd studied with binoculars several times before. Sure enough there were ways through it, but mostly no single good or marked trail. It wasn't hard enough to be really dangerous, just tiresome. But unlike the ranger, I wouldn't call it "easy", either (grin).
About 400' higher and with my third hearty "hi-yo!" in as many days, I reached the rounded top of the first high point on the ridge at 11:44, one hour from the car. It was half snow-covered, with no tracks, and spectacular.
It was also a little disappointing... On the way up I noticed that to reach the next high point, and the real end of the ridge proper, I had no choice but to go right over the first bump, and down maybe 300' more to another saddle. Also, the last two high points, and the ridge between them, still blocked a portion of the Valley. However, walking a short distance from the top, at least I could see down to Badwater.
I don't recall why, but I decided to just stop there, have lunch, and enjoy the view. "Good enough," I suppose. And I really did like having plenty of time to soak it up, sitting in a few different spots. There were some live juniper trees, and some gnarled old branches. The GPS said Tucki Mountain was 6 miles north, and Furnace Creek Ranch was 12 miles away. "Hmm... You could walk from here to there in a day. But getting down the first part would be hard."
(Furnace Creek Ranch is the dark patch, actually green, on the distant alluvial fan, just left of top center in this picture:)
I relaxed, spent a lot of time with binoculars, and took pictures. It was cold enough that I had to warm the digital camera batteries in a hand or pocket to use them!
As I usually do while hiking, I ran and reran the numbers in my head. I wanted to be down at Furnace Creek at 5 pm to register for the conference... Must leave the summit by 2:30 to have enough time... So at about 1:15 pm, I gathered my gear to start back. And I looked down at the next saddle out to the end of the ridge. And looked back at Aguereberry Point... And down... And started down... And then thought better of it, and turned around back toward the Point... And then I said to myself, "What the fazoo, I have to do this while I'm here," and started down again toward the next saddle.
Well it didn't take long to get that far. But I should have listened to my intuition, for a little ways up the next rise, I ran into a big gendarme (rocky pillar on the ridge) that was tough to climb up, over, and down. Lots of loose limestone scree. And beyond that, the end of the final ridge was inviting, just 100' or so above me, but in between there was a really nasty cliffy section that would have required a long descent and scramble back up on more talus. Sigh! Time to give it up and save it for some day when I'm younger...
By the time I returned to the first high point, it had been 40 minutes and was now 2:00 pm. I proceeded down the nasty hillside with great caution to the first saddle, then put my body in "low gear" for a patient grind back up to the Point. I was very, very tired, but not in any real pain, just worn out. It took me a full hour to cross back from the first high point.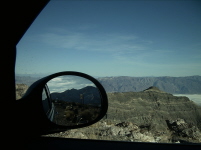 (Sorry I forgot to roll down the window first:)
After that, though, the drive back down to Furnace Creek by way of Stovepipe Wells was fast and uneventful. I was there 10 minutes early without rushing. I discovered that 120 people would attend the conference, the organizers had a packet waiting for me, and there'd even be a couple of free lunches. I drove the mile or so to Texas Springs to snag and mark a campsite for the night, came back later for the 7 pm program (a one-act play about legendary prospector Shorty Harris), and then drove down to the airport, 0.7 miles west (my first time ever), to join a small group for stargazing.
They had three nice telescopes set up. It was so amazingly dark that the elusive zodiacal light stood right out, and the runway markers were annoyingly bright. Having more than sea level oxygen didn't hurt our visual acuity either! After a while, my brain was full, I was getting a little cold, and sleepy too, so I went home to my campsite for the night.
---
Friday, February 1 -- Natural History Conference
The next two days I mostly sat in the Furnace Creek visitor center auditorium listening to history paper presentations -- and recuperating. Having overdone it, I was coughing a little and felt pretty cold the first morning. But it was fun and easy enough showing up in time for morning snacks, washing up in the bathroom, and vegging out while other people did the talking. I didn't miss a minute of about 20 sessions.
I guess the older you get, the closer you get to becoming part of history yourself, and the more interest you find in the subject (grin). At age 52, I was one of the younger people in the room, but I did enjoy the wide range of topics presented. They varied from focusing on particular historical figures, to a new trove of photographs found elsewhere in California, to interviewing the oldest living Timbisha Shoshone (whose home is in the park), to talking about what happened to the Death Valley Railroad, to tying together far-away threads that involved people who had some connection to DVNP. Some of the presentations included very snazzy PowerPoint projections, while others were nothing more than a person standing up and lecturing.
I found myself surprisingly busy during the morning, lunch, and afternoon breaks chatting with various people I didn't previously know, about topics of mutual interest. It actually went by too quickly. I also learned that the visitor center and HQ was nearly 50 years old, the pool in the courtyard hadn't run for over 30 years (hard water trashed the plumbing), and the auditorium was shaped like a huge coffin -- something I'd never noticed!
I ran into the ranger I'd spoken with on the phone a week earlier. I asked him about the dryfalls on the way up Corkscrew Peak. He said, "Oh, didn't I tell you that you should exit the canyon to the west before the dryfalls?" He dug around and gave me a copy of a marked-up topo map showing not one, but two, different "new" routes up the mountain, both west of and more direct than my trajectory. He hadn't mentioned on the phone that I should come get a copy of it, either. Oh well, I'll save it for "next time."
On Friday evening after the talks ended, I drove the short distance to the Furnace Creek Ranch registration office, waited in line, plunked down my $5 for a swim and a shower, and proceeded to do those. Very nice! The pool was warmer than at SPW, and I had it all to myself! It was delicious; clear, deep, green, under dark skies.
I returned to the visitor center for the 7 pm program. This was a fabulous projection show by a young ranger visiting from Cedar Breaks, called "Dark Wars", featuring "Dark Rangers" who worry about keeping the night sky clearly visible.
At 8:40 pm, feeling tired again, I drove down the road to a new adventure... South on the Badwater Road, turned right on the West Side Road, ~5.3 more miles up to the Trail Canyon turnoff. It was clearly marked as "no camping next two miles," as I expected.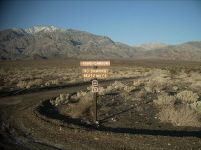 (This picture was taken the next morning:)
I took the rental car carefully and slowly (8 MPH) up the fairly rough track 2.0 miles to 400' elevation (said the GPS), arriving at 9:15. Sure enough, just at that point there was a wide flat on the right that was obviously used before... People had cleared small rocks off a tent area.
This turned out to be a truly memorable place to spend the night, even if the two miles in and out was a pain. It was a gorgeous, dark, quiet campsite with a vast bowl of stars overhead... No neighbors, no facilities, no cost! Also it was an unusually warm night, about 55 when I arrived. Far in the distance a few lights glowed from the Furnace Creek area and its airport. An occasional car's headlights could be traced along the Badwater Road. I hated to pull the sleeping bag tight and close my eyes.
---
Saturday, February 2 -- Trail Canyon, Tule Spring, Conference
As usual I awoke during early twilight, admired the fading stars and later the dancing planets, and went back to sleep for a while. The sunrise was pretty but muted. I could look up Trail Canyon to nearby Tetracoccus Ridge, where I'd been Wednesday.
At 7 am I departed back down the rough two miles to the West Side Road. Once there I decided there was time to drive about four miles further south before turning around and retracing my path back to the conference.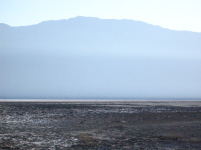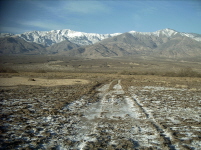 It was very quiet, just a couple of other vehicles seen. I parked at Tule Spring, 0.2 miles east of the road, and walked maybe 10 minutes further east toward the salt flats on a decent trail through salty mud that was squishy in spots. Various patches of greenery and scattered acacia trees attested to the presence of spring water. It was a quiet, cool morning, hazy looking into the sun toward Badwater, just the high ridgeline silhouettes visible. Telescope Peak and Hanaupah Canyon towered over me to the west. I could see, and thanks to Sharp's book, recognize, the 50' tall fault scarp crossing the foot of the huge alluvial fan from the latter.
By 8:20 I had to get going. Half an hour later I was at the visitor center ready to brush my teeth and attend the second day's programs... That evening, I got a campsite again at Texas Springs before dark, then parked and walked into the back of the Furnace Creek date grove for the hosted BBQ dinner. It was very nice, although chilly enough that the ranch had turned on huge propane heaters.
After dinner I joined a large crowd back at the visitor center for another evening program, this one called "America the Beautiful". It featured breathtaking images of terrain and star-studded night skies taken by a private photographer from many different national parks. After that it was time to go "home" again for one more night of camping out. The campground was nearly deserted.
---
Sunday, February 3 -- Badlands, Dantes View, Greenwater Valley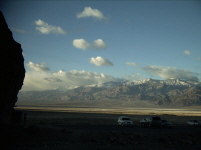 I awoke early and feeling good. Again I snuck out of the campground as quietly as I could, and drove about ten minutes south to the popular Golden Canyon trailhead on the Badwater Road. I got there before sunrise, the first visitor for the day, but hung around a while in no hurry. I needed to take lots of photos of the clouds milling around the golden peaks, driven by wind that hadn't yet reached ground level, but soon would. Also I ate some breakfast while many other people pulled up, parked, and disappeared into the canyon on foot.
Today I wanted to do something relatively short and easy. For some years I'd daydreamed about a Golden Canyon to Red Cathedral Ridge to Zabriskie Point to Gower Gulch (clockwise) loop. Map study said there might be a way to climb out of Golden to get onto the ridge... I'd done the smaller loop, "down below," before.
I didn't start out walking until 7:35 am. I figured on maybe 2-3 hours, but once again it turned out to be a heck of an adventure, and I wasn't back until 1:05 pm, 5.5 hours later, and worn out again too.
About half a mile up the canyon there was spectacular morning light on Manly Beacon and the surrounding cliffs. I turned left up a side-gulch, picked what seemed like the most promising finger, and started scrambling up a rocky mudstone gully. Before long it got steep and nasty enough to exceed my comfort level, worse than it looked from below, there was at least ten feet more like that above me, and I couldn't be sure I wouldn't have to return the same way. So reluctantly I bagged it, started back down, and then was very glad I hadn't gone up any farther. Even my high point was rather precarious.
Back in the main wash, I had another idea. Why not make the loop counter-clockwise? So I did, slogging up the mostly well-marked trail out of Golden, around the south flank of Manly Beacon, toward Zabriskie Point. Upon reaching a sign indicating you could go straight for the Point or turn right to descend Gower Gulch, I figured I must be in the gulch drainage proper. Rather than go straight ahead out of it again, I walked up it to the left.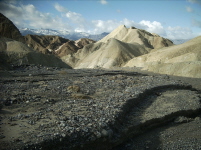 Well of course, this turned out to be a tributary. It was a nice walk...
Sometime later, deep in a "hole" with little visibility, I decided I had to climb up and see where I was. Sure enough -- too far north. I descended and crossed until I really could get into upper Gower Gulch. Then I kept going south past Zabriskie Point and up the wash until I hit the Gower Gulch dryfall. This is where people using dynamite connected Furnace Creek Wash to the gulch nearly 100 years ago to protect the Furnace Creek Inn below.
Next I plodded up another steep mudstone gully to finally reach Zabriskie Point, 710', at 9:40, 2:05 after starting out. By now a cold wind was howling, too. I picked a nice place with a view to sit, then moved to the other side of the stone wall to get out of the wind!
So much for a fast round trip. I was tired, but I still wanted to return by way of the Red Cathedral Ridge and the unknown territory west of it. So I headed out that way at 10 am, north and northwest up the ridgeline trail. I'd been up it a little bit in the past, but not all the way to overlook Manly Beacon.
The trail was decent, following the sharp ridgeline or sometimes going around north around a bump, but it was a good distance. It took me most of an hour to get to the highest points near the Beacon. The wind was so powerful I could lean into it, which meant I had to be a little more careful walking along, and taking pictures was tough. The lees were a nice respite.
It was interesting seeing the badlands and the Beacon "rotate" every time I returned to the ridgeline for another look over. At the very highest pinnacle, I went up the gravelly slope far enough to look over it, but I wasn't comfortable enough to stand right on top!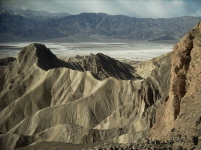 (That's Tetracoccus Ridge in the top center of this picture:)
A ways further along at 11 am, I found a reasonably quiet spot on a hillside for a long break. Even here I got gusted and dusted occasionally.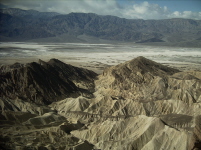 The rest of the loop was unknown territory. I followed the diminishing trail along the ridgeline a long way. It headed off toward the Furnace Creek Inn maybe 1.5 miles north of me. At that point I studied the terrain. It didn't look too awful dropping back into Golden Canyon itself, but I knew better, there had to be hidden cliffs. I decided to walk down a ridge to the right (north) of that direction hoping to find a way back to the Badwater Road.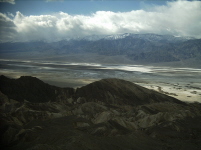 Bear in mind that while I'm describing my focus on route-finding, there was jaw-dropping scenery far into the distance most of the way around me, and I was buffeted by powerful wind gusts. Complex clouds wreathed around the summit of Telescope Peak and the rest of the Panamints.
Descending went well for a while. I thought maybe I'd hit dryfalls way down below and have to climb up and around them. So I was surprised when the bottom dropped out a lot higher... Very steep cliffs and gullies, dryfalls, no good way down... Rats, in hindsight it was obvious. There was a conglomerate layer on top of badlands mud. Where they met, naturally the badlands eroded faster, causing a cliffy zone.
I thought, "What am I doing in a situation like this again?" I knew I wasn't in any real danger, and I'd be careful to avoid any, but it was disappointing, and a waste of precious time and daylight. I thought about heading left, more toward Golden Canyon and the car, but I knew that narrowed my options, possibly to none. So instead I worked my way up, over to the north, down, more cliffs, up, over again, etc, looking for any reasonable descent. The gullies were very complex, and the cliffs and dryfalls were hard to see from above.
I found one place that might work, but getting to it would mean going uphill, down something very steep, and back up to it. But, there were also possibilities to the right. So with a deep breath and great care, I worked my way down a pebbly mud gully wall to the floor of that drainage.
Next I followed it down as it disappeared out of sight. "Don't go down anything that you might fall over or that you can't get back up." It was kind of exciting, deep in the slot, rounding one bend and another, never sure what was coming. "So far so good, I can do this. I bet there's a 20' dryfall around the next corner... Nope, only 5', I can do this!"
With great relief, I saw I was making it through without a lot of backtracking and rehashing. I got onto the main wash floor down below, where it leveled out, and kept walking downhill. Of course, there might still be a dryfall between me and the road, but I'd see.
It turned out there wasn't; the worst of it was behind me. All I had to do was walk down the wash a long way, admiring all the flash flood sculpturing. I stopped at one point, too hot, to take off my polypro bottoms, first time I'd done that hiking all week. I kept watching for ways to climb out of the gully to get around a fall if necessary, and there were a few.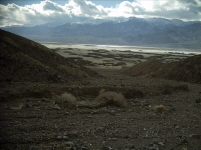 Eventually I saw the Badwater road, and somewhat later arrived at it. I could see the trailhead and my car to the south, the GPS said 0.62 miles away. Now all I had to do was to walk that far, in the gusty warm wind, and hope none of the huge clouds blowing up from the "chemical desert" salt flats reached my location.
When I finally got back to the parking lot, I was sad I had to go, sorry it was already after 1 pm, and very, very ready to move on!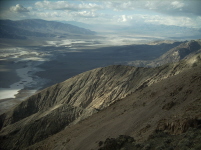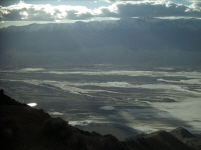 After parking briefly by the Inn, I headed up the road southeast at 1:50 pm. I looked to the right and could see where I'd been up on the ridgeline... Passed by Zabriskie Point without stopping... Took the turn right up the Furnace Creek Wash road toward Dantes View. Near Ryan, where the wash is outside the park boundary and contains some interesting chalcedony, I rockhunted for an hour or so. Then I proceeded up to Dantes View, where the intense in-your-face gusts continued, so I didn't stay long.
About six miles down the road back on the floor of the valley, I turned right (south) off the pavement to drive the Greenwater Valley road for the first time. Years ago I'd been ~12 miles south, over the 4000'+ summit, to backpack up Funeral Peak. Today I just drove the whole ~28 miles in 0:55 with some short stops to admire the scenery. Greenwater Valley is a broad swath of high desert surrounded by low, colorful hills. Of course I had it all to myself.
It was 4:40 pm, less than 40 minutes until sunset, with glorious light, clouds, and contrasts, when I hit the pavement again. Without delay I headed back east and south through Shoshone to the Tecopa opal beds for another quick visit. Turns out I shouldn't have rushed or bothered, it was 5:05 by the time I got there, getting dark already, with more strong winds and blowing dust. Still I hunted until 5:45, but didn't find much more to add to what I already had in the car.
End of adventure? Nothing left now but to drive two hours back in the dark to my pre-reserved motel room in Las Vegas, by way of Pahrump. I noticed later there's a shortcut road through Tecopa, but didn't know it existed, so I did the usual longer route. It was cloudy, very dark, and intermittently rainy or snowy!
Having no reason to stop, I passed through Pahrump and headed up the Mountain Springs Pass road, which tops out at 5493'. Rain and then light snow continued. About 1000' below the top, a flashing sign warned of ice ahead. They weren't kidding! All of a sudden there was a stop, one car was on its side in a ditch, and there was almost no traction at all! A sheet of ice under a few inches of wet snow.
Being from Colorado, I knew enough to be worried, but also how to handle it. I figured, "They are going to close this road soon, and it's not far over the top, I'd better keep going." So I did, although very slowly, letting anyone who wanted to, pass me. After maybe 20 minutes of white-knuckle driving to the summit and cautiously down the east side, shaking my head at the knuckleheads who went around me and picked up speed, I finally reached pavement that was merely wet.
Las Vegas was overcast and somewhat drizzly, but a welcome oasis. To my surprise, I still made it to the Knights Inn by 7:45 pm with one near-accident (in town!) and a stop to fill the gas tank. I emptied my whole mess out of the rental car into the room, and retired for the night to shower, re-pack, and relax. Forget about dinner out, I had plenty of leftovers, and not enough time or energy.
---
Monday, February 4 -- Back Home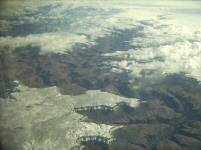 Flying home was blissfully uneventful, although the lines were as long as I've ever seen them at the Vegas airport, and then the plane was an hour late leaving anyway -- this time due to weather on the Colorado end. But there was some nice scenery on the way home, including the north rim of the Grand Canyon.
We landed in cold, snowy conditions. I hung around the little FNL airport terminal relaxing and reading while the plane headed back to Las Vegas, Cathie wrapped up her workday a little early, and she came to get me.
As she picked up one suitcase to throw it into the trunk of her car, Cathie said, "The rocks are in this one, right?" Right... Thanks to her for giving me her old luggage with wheels, I can keep collecting rocks on airplane trips despite getting older myself... The roads being not too bad, we continued to Mimi's Cafe in Loveland for Cathie's fine and wonderful birthday dinner.