July 1, 2005: Bell Tower Window, Lake Powell, Utah
One of many trip reports by Alan Silverstein.
Last update: December 9, 2008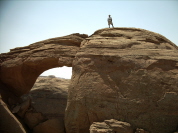 John Yockey standing on the main pillar of the Bell Tower Window, approximately south:

From:  Alan Silverstein <ajs@frii.com>
Date:  7 Jul 2005 12:47:30 -0600
Subject:  [Lake_Powell_2000] Bell Tower Window near Ribbon Canyon
          (edited later)
To:  Lake_Powell_2000@yahoogroups.com

Howdy y'all. I was at the lake, out of Bullfrog, June 26 - July 3. Here's a brief report on one part of our houseboat trip, where we visited the Bell Tower Window for the first time on Friday, July 1.
As I wrote earlier, the USGS Board on Geographic Names approved 7 of my 17 proposed names last May 12. This includes Twilight Arch and Bell Tower Window. See my updated Proposal for New Formal Names in Glen Canyon.
Early in the week we ski-boated into Twilight Canyon for a look at the Twilight Arch... Same as before. (grin)
On Friday, July 1, I stood on top of the Bell Tower Window!
There's only one non-technical way to get up and out of Glen Canyon on river-left for many miles, between the last cove on the Rincon peninsula upstream of the Escalante (about mile 72) to beyond Ribbon Canyon (mile 64). I inspected but did not ascend a rock rib 2.5 years ago, near an Anasazi dwelling site with many types of tidbits like pottery and charcoal, in "Middle Rib Canyon" between "Walking Rock Canyon" and "Twin Edens Canyon" (both names I proposed and the BGN rejected, grin)
We moored on river left in a small cove just upstream of mile marker 64(A? I think) between "Middle Rib" and "Twin Edens" canyons.
By ascending this rib last Friday, we were able to get to the plateau above, and then cross over to "Twin Edens Canyon" and the Bell Tower Window in about 1:15 from the canyon floor and 2:00 total from lake level. It was hot, about 100 degrees.
I now have accurate (GPS) coordinates, taken right on top of the larger pillar, with a DOP of 0.9 (excellent): 37.26535 N 110.85049 W (= 37 15'55"N 110 51'02"W = 12 0513257 4124116), NAD 27 CONUS datum.
It was relatively easy to stand on the main pillar of the span. I also was able to carefully cross the entire top of the arch to the far end and back, aware of the drop below, but unable to see it.
It's clear that the Window might not be a proper arch, but rather a "joint crack opening" where the span is a "chokestone" or "chockstone". The rock layers are continuous, but there's a weathered crack at each end, although you can't see through any part of them. It's likely the span formed due to vertical cracking followed by erosion removing boulders below the span. In fact there are several large, "recently" fallen boulders sitting in the opening. It's impossible to tell if the cracks are complete (related to the span's formation) or just an effect of secondary weathering (with continuous unbroken stone).
The entire feature resides at the end of one huge "fin" of stone that emerges from the canyon wall. There are parallel crack lines in the area. I suspect the entire canyon (maybe all three in parallel) are due to vertical faulting. This particular fault led to a fin which then formed the span. There's a "bottomless" drop between the plateau and the span, but just to the right you can cross over and climb up.
Now, does anyone who's read this far know if it's possible to "rim out" (or "exit") from Ribbon Canyon? I need to explore there sometime. (The following year I hiked the canyon to check it out, and there is no exit from it.)